Introducing Lucile Kitson Schuck Longview (1911-2010)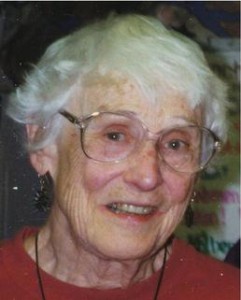 Lucile was feisty, funny, and brilliant. Intensely concerned with the spiritual implications of the women's liberation movement, she felt the psychological aspects of relationships in the family should be carefully examined. This, she insisted, should be a primary focus of the work of women interested in achieving their full personhood and supporting others in doing so.
A committed activist in the Global Women's Movement, Lucile Longview participated extensively in several Unitarian Universalist organizations: the Unitarian Universalist Association (UUA) through local congregations; the Unitarian Universalist Women's Federation (UUWF); the UU Women and Religion (UUWR) Movement; and the International Association for Religious Freedom (IARF).
She was best known as the initiator (primary drafter) and interpreter of the UU Women and Religion Resolution adopted unanimously at the UUA General Assembly in 1977.
These excerpts from the resolution best capture Lucile's passion:
"WHEREAS, some models of human relationships arising from religious myths, historical materials, and other teachings still create and perpetuate attitudes that cause women everywhere to be overlooked and undervalued; and
"WHEREAS, children, youth and adults internalize and act on these cultural models, thereby tending to limit their sense of self-worth and dignity;
"THEREFORE BE IT RESOLVED: That the 1977 General Assembly of the Unitarian Universalist Association calls upon all Unitarian Universalists to examine carefully their own religious beliefs and the extent to which these beliefs influence sex-role stereotypes within their own families…"
She was also a long term and loyal participant in the Harvard Divinity School Theological Opportunities Program (TOP). Several of her presentations are included in these pages.
Near the end of her life, she compiled into THE RED NOTEBOOK what she thought were her best talks and writings related to her personal development and futuristic vision; and thoughts about the Unitarian Universalist Women and Religion Resolution.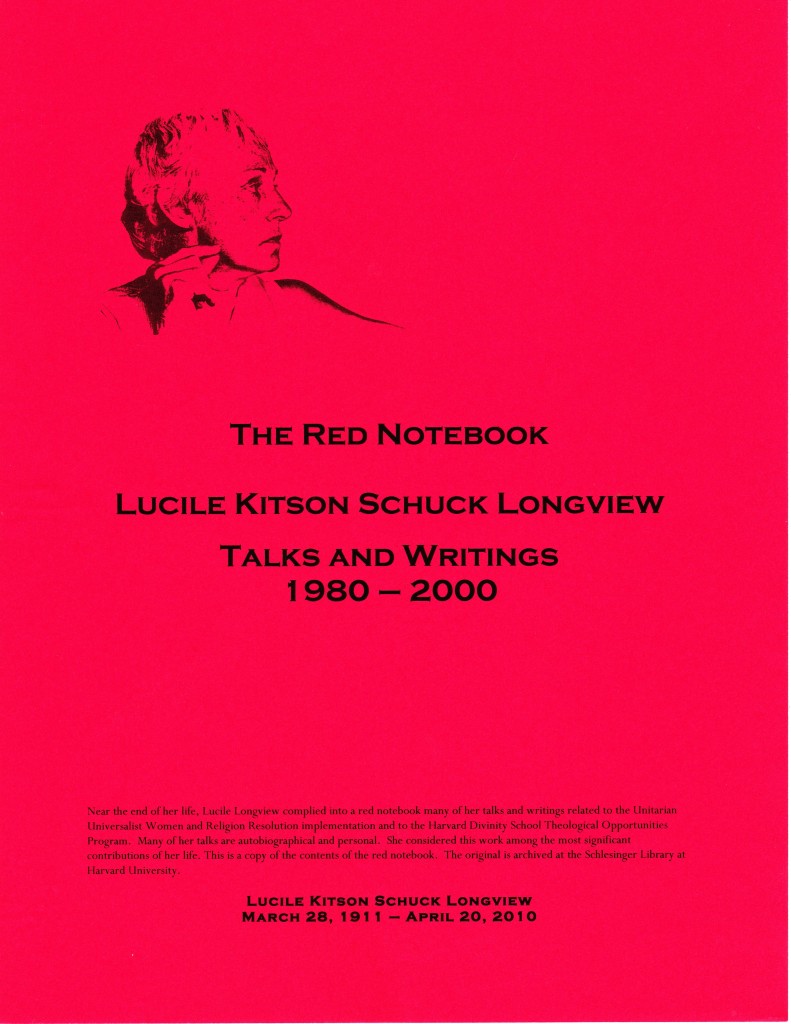 She considered this work among the most significant contributions of her life. In these written pieces, Lucile provided invaluable insights and personal revelations. Many of her talks are autobiographical and personal.
Lucile articulates lasting radical and liberal values which challenge the hierarchical patriarchal world view. Taking action into her nineties, Lucile provided a role model to appreciate.
Lucile and Liz Fisher — an on-going dialogue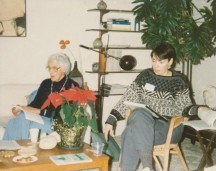 Lucile Longview and Liz Fisher, 1985
Over a period of 20 years (1983-2003), I engaged in dialogue with Lucile about how patriarchal religious beliefs and practices contributed significantly to the oppression of women in contemporary culture. She inspired me to become deeply involved in the Women and Religion movement within the UUA and in the larger culture. My contributions include: authoring two major curricula, and articles; publishing a variety of ritual and educational booklets; and practicing/promoting group facilitation using the shared leadership process.
Our age difference turned out to be an asset. I am 36 years younger than Lucile and come from the generation that when we were in our late teens and twenties didn't trust anyone over thirty. I met Lucile when I was in my 30s, she in her 60s. I learned from my interactions with Lucile and other women in the W&R Movement that inter-generational cooperation was not only possible, it can be meaningful and supportive. Her willingness to be involved as an equal colleague – rather than claiming age equals superior wisdom – allowed us to blend our perspectives which, because of our ages, arose in the context of very different social milieus.
Lucile's daughter, Linda Schuck, made this book available to me. She wants her mother's words to be shared with others because she feels so much of what Lucile wrote is relevant today. Throughout Lucile's life, Linda engaged with her mother, helping Lucile formulate her ideas and shape her essays.
Linda knew that Lucile and I had a special relationship. On several occasions, I met with Lucile and her family to discuss her contributions to the global women's movement. I have also talked at length with Linda which has given me added insight into Lucile's family life and personality. When Lucile passed, I wrote several pieces that commemorate her life. These are included in these pages.
What is Posted
The initial pieces posted here introduce Lucile and set the context. Though the Notebook is in date order, I have made selections from various time periods to show the range of her concerns.
Throughout the entries links to Lucile's original scanned writings and related material have been inserted. These appear in red and can be opened by clicking on the link. More pieces will be added over time.
I have also posted my own observations and interpretations about the selections. These are titled Context, Comments, Background, preceded by my initials (LF), or Summary .
Schlesinger Library
The original of THE RED NOTEBOOK, along with Lucile's collection of related documents and correspondence, is archived at Schlesinger Library on the History of Women in America at Radcliffe Institute for Advanced Study at Harvard University. The Schlesinger Library is the world's largest and most significant repository of documents covering women's lives and activities.
List of Lucile's papers at Schlesinger Library
Lucile — born: March 28, 1911 – passed: April 20, 2010