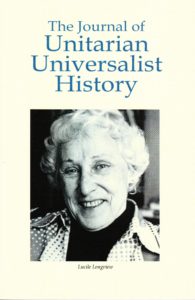 Click on image to enlarge
Appearing in The Journal of Unitarian Universalist History, Volume 40 (2016-2017)  available here by permission of the author and editor
From editor's note by Kathleen Parker:
"Natalie Malter offers new insight into the story of a largely unknown Unitarian Universalist lay woman, Lucile Longview, whose growing feminist consciousness led her to write and promote the Unitarian Universalist Women and Religion resolution, which was passed at General Assembly in 1977. Malter further explains the process by which this resolution led to the creation of the UUA Women and Religion Committee, which led the way to rewriting the UU principles to reflect more sensitivity to feminist values. Malter argues that Longview's influence, together with the work of other visionary women, needs to be brought to light and consciously utilized as UUs look to the future."
Natalie Malter
Natalie recently received her Master of Divinity degree from Harvard Divinity School in Cambridge, Massachusetts. Prior to attending Harvard, Natalie served as the Youth Director at the Unitarian Universalist Community Church of Washington County in Hillsboro, Oregon. She is a Co-Editor of an anthology of UU history entitled A Documentary History of Unitarian Universalism (Skinner House, 2017) .
Rev. Malter can be reached at:    malter.natalie@gmail.com
Comment by Liz Fisher: 
This article is a thorough discussion of what went on leading up to the Women and Religion Resolution, how and why it was written and thoughts about its unanimous adoption at General Assembly in 1977.
I am impressed with the work Natalie Walter has done, delving into the archives of Lucile's writing to formulate her understanding. The articles written by Lucile that Natalie references are included in full on this website. They are personal and sociological at the same time, raising dilemmas that are still current. I find them fascinating reading.
I will soon add comments here summarizing my own perceptions  about the work done by UU Women in the 1960s and 1970s to bring about a more inclusive frame for the UU denomination.  The work of these dedicated change agents  set the stage for later activities on behalf of women's full participation at varied levels within the denomination.  This work, carried on by many others over the years has been dynamic, effective and complex.  I thank Rev. Malter for giving it her considerable attention.
In future, I will  share here my experiences with Lucile Longview and Rosemary Matson that are relevant to this article. My participation in UUWR started the early 1980s, not long after the Resolution was adopted,  and continues to the present. My thoughts and perceptions can be read along side this article to give additional context.