Introducing Lucile Kitson Schuck Longview (1911-2010)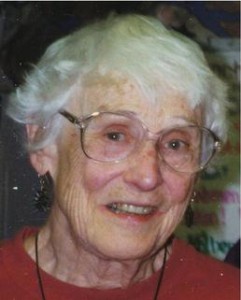 Lucile was feisty, funny, and brilliant. Intensely concerned with the spiritual implications of the women's liberation movement, she felt the psychological aspects of religious myths should be examined for their support of patriarchal structures where the male was dominant and the female subordinat  at all levels of society.
She also felt relationships in the family should be carefully examined for the subtle they inculcate gendered conditioning. This, she insisted, should be a primary focus of the work of women interested in achieving their full personhood and supporting others in doing so.
A committed activist in the Global Women's Movement, Lucile Longview participated extensively in several Unitarian Universalist organizations: the Unitarian Universalist Association (UUA) through local congregations; the Unitarian Universalist Women's Federation (UUWF); the UU Women and Religion (UUWR) Movement; and the International Association for Religious Freedom (IARF).
She was best known as the initiator (primary drafter) and interpreter of the UU Women and Religion Resolution adopted unanimously at the UUA General Assembly in 1977.
Key Sections of the Resolution
Lucile,  in her own words about the W&R Resolution
Written by Lucile shortly after the resolution passed  before she had taken the name Longview,  To Make a Significant Difference  is a brief and very clear statement of the Women and Religion's intentions.  It begins:
"The resolution,  Women and Religion, adopted unanimously by the General Assembly in 1977, calls on the Unitarian Universalist Association to make a significant difference in the religious perceptions of our time.  It calls on religious professionals and laity to bring into focus the basic assumptions that undergird our world view and to see their sexist nature. "
To Make a Significant Difference by Lucile Schuck
She was also a long term and loyal participant in this program. Those attending TOP believed the process of reviewing our own lives and understanding how we have grown is something that strengths our spirits. They took turns sharing with each other.
All four of Lucile's presentations reviewing her life journey,  delivered at TOP, are included here . The fourth telling of her life story from her perspective at 81 years old , Transforming the Myths – Telling Our Stories, 4-16-1992  , is particularly insightful concerning her primary passion, understand the role of women and religion in patriarchy and how it effects all of us. Reading this will give you quite a sense of this intelligent leader and why she committed herself to look at the impacts of religion through the eyes feminism.
The Red Notebook
Near the end of her life, she compiled into THE RED NOTEBOOK what she thought were her best talks and writings related to her personal development and futuristic vision; and thoughts about the Unitarian Universalist Women and Religion Resolution.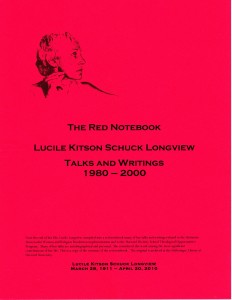 She considered this work among the most significant contributions of her life. In these written pieces, Lucile provided invaluable insights and personal revelations. Many of her talks are autobiographical and personal.
Lucile articulates lasting radical and liberal values which challenge the hierarchical patriarchal world view. Taking action into her nineties, Lucile provided a role model to appreciate.
I am curator of the content of this website, and am author of the popular UUWF course Rise Up and Call Her Name, A Woman-honoring Journey into Global Earth-based Spiritualities and the UUSC course Gender Justice: Women's Rights are Human Rights, which presents the Platform for Action for Women adopted at the Fourth World Conference on Women in Beijing China in 1995. I was a co-convener and participant in the Pacific Central District Women and Religion Task Force from 1983-2001 and then took on the task of archiving this Movement . For more about my own experiences see:
Liz Fisher's W&R Autobiographical Statement
What's Posted
The initial pieces posted here introduce Lucile and set the context. Though the Notebook is in date order, I have made selections from various time periods to show the range of her concerns.
Throughout the entries links to Lucile's original scanned writings and related material have been inserted. These appear in red and can be opened by clicking on the link. More pieces will be added over time.
I have also posted my own observations and interpretations about the selections. These are titled Context, Comments, Background, preceded by my initials (LF), or Summary .