Lucile and Rosemary Matson
The award was given to Lucile as the Initiator and Visionary and Rosemary Matson as the Implementer of the Women and Religion Resolution. Both felt they were only representatives of so many women who were acting in these capacities.
More pictures of Rosemary and Lucile through the years:
Lucile Longview and Rosemary Matson, various years
Rosemary Matson, Janet Nortrom, and Lucile Longview, with UUWF President Arlene Johnson, after she presented the Ministry to Women Award jointly to Lucile as Initiator of the UUA 1977 Women and Religion Business Resolution and Rosemary as Implementer of the Resolution
Additional pictures from the ceremony: Pictures-from-1998-Rochester-GA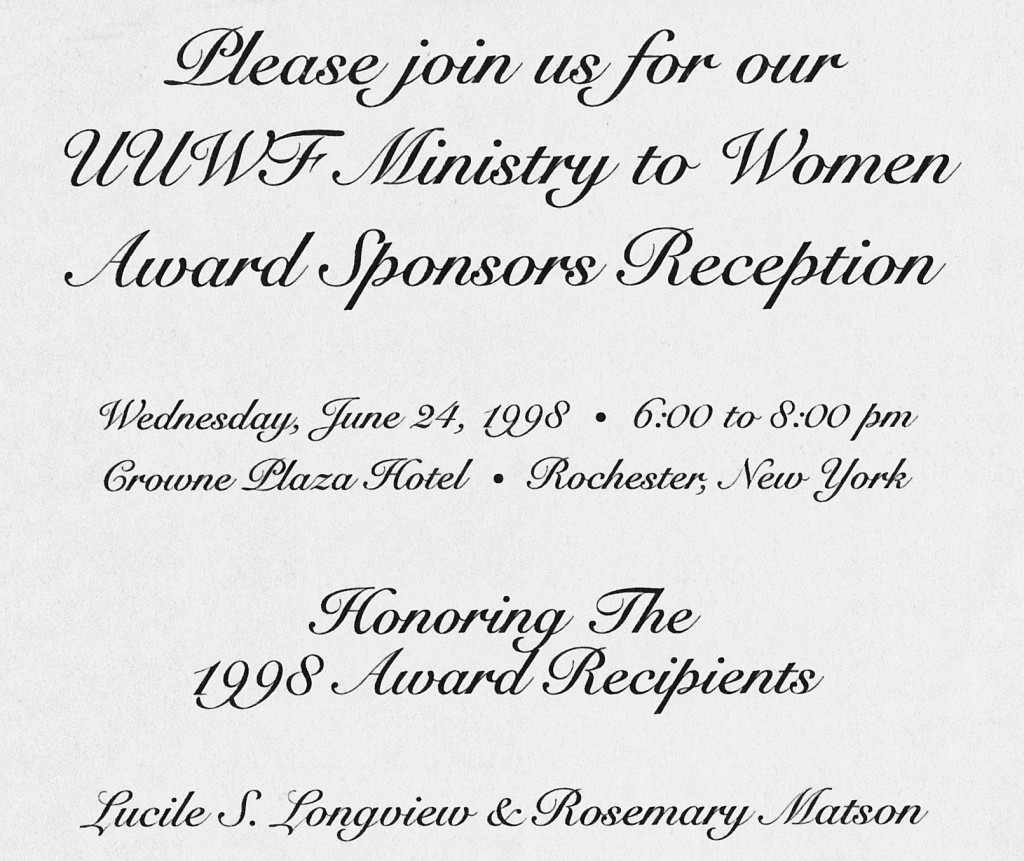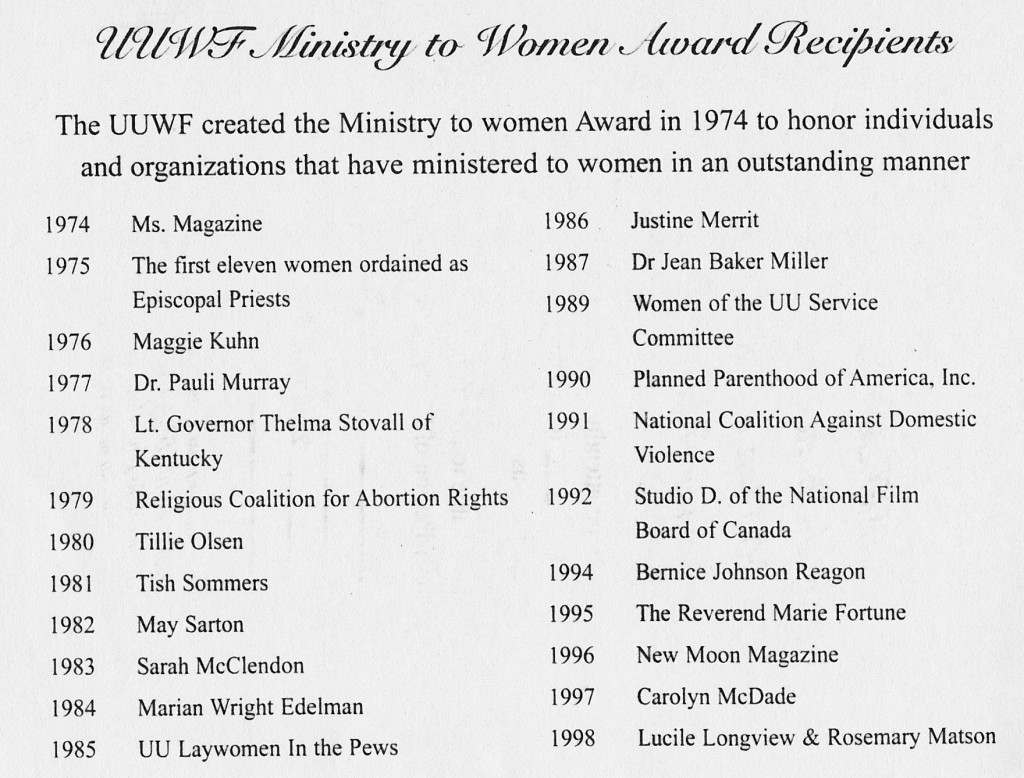 At the same time, Lucile and Rosemary were inducted into The Women's Hall of Fame in Rochester, NY home of the First Women's Rights Convention and now a National Park: Pictures of Lucile at the Women's Hall of Fame 
Rosemary Matson was a  colleague of Lucile Longview since the passage of the 1977 Women and Religion UUA Business Resolution
From the very beginning, Rosemary Matson became involved in the effort to pass the ground-breaking Women and Religion Resolution. She met Lucile through their mutual friend Rev. Jack Mendelsohn.  At that time she was employed at Starr King School for the Ministry as director of communications and development. After passage of the Resolution, she became co-convener of the first Women and Religion Committee appointed by UUA President Carnes, and served from 1977-1980.  She was deeply committed to and actively involved with Women and Religion activities until her death in 2014 just following her 97th birthday. 
(LF) Background: I also worked very closely with Rosemary Matson  over thirty years beginning in the early 1980s, becoming the curator for her archives which are now housed in the Schlesinger Library in Boston.
I put together three publications about the important Women and Religion and Human Rights activism Rosemary engaged in through her long life.
In May 2011 Rosemary received an

Honorary Doctorate from Starr King School for the Ministry.

This booklet was printed and passed out to the many attendees.
Important Highlights of Rosemary's Life May 2011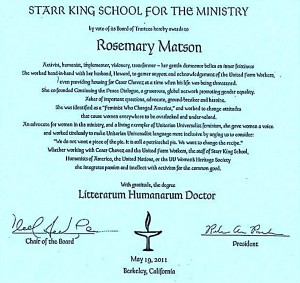 (click on image to enlarge)
2.    When Rosemary passed on September 27, 2014, I created this 56 page booklet which contains many statements from her colleagues throughout the years, outlining her many important contributions and the support she offered to them.
Book of Remembrance — Rosemary Matson by Elizabeth Fisher
3.    In addition to these, I put together an essay for the anthology entitled Voices of Change  from the writings of Rosemary and Howard Matson. The book contains excerpts of interviews with activists in the Monterey Bay Area, a fascinating group of folks. This area, while being one of the most affluent in the country, is home to many who work tirelessly for farmworker rights, racial justice and minority and women's rights. Rosemary and Howard were right in the thick of it all.
In 2014, the interviewers were able to speak with Rosemary briefly before she died, but were not able to get enough information to put together an essay. Rosemary's memory by that time had faded on the details. She suggested I take over and put material together from her and Howard's archives, which I did. I selected pieces for inclusion in Voices of Change that represent their passionate commitment to social justice and the depth and breadth of their involvements. This book is due to come out at the end of 2015.